Kratom tea, how to prepare a nice cup of Kratom tea
Do NOT put Kratom in boiling water (it will destroy your Kratom)
First prepare your Tea of choice (you can off course boil the tea first), infusing method
Let it COOL a down a bit (below boiling point, very important)
Add the kratom to enhance your Tea, stir it and add sugar or honey if you want
Honey is better than sugar, it does enhance the Kratom effect a bit
Do not mix the tea leaves and Kratom (use an infuser), you don't want to consume the Tea leaves
Enjoy…..
Use a large tea infuser. Tea leaves need volume, these works far better than the smaller tea infuser "balls-style" (better suited for fine crushed tea leaves).
These keep the Kratom and tea nicely seperated.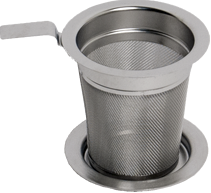 You must be 18 years or older to buy Kratom. We do not sell Kratom for consumption. When purchasing you must agree to our terms and conditions.
All examples and information about the use of Kratom on this website are purely informative and based on the use and experience of traditional users of Kratom in Asia.